In some ways, I have been writing Free Daily Bible Study for almost 15 years—the time when I first began seriously studying the Bible through the M'Cheyne Bible Reading Plan. And, while I thought about launching something like this last year for 2014, I only really began working hard to prepare Free Daily Bible Study this past June—right around the time that my son Zachariah was born.
But now that we are only two days from the launch date, I have just a couple of items to communicate with you so that you know what to expect and how to get the most out of this Bible study over the course of the coming year.
Don't Skip Reading the Bible
First, it is critical that you use Free Daily Bible Study as a tool to help you study the Bible, and not as a replacement for studying the Bible. Each day's meditation—whether you are reading it or listening to it via podcast—is written with the assumption that you will have already read the passage.
It simply will not work to try to read the meditations without reading the Bible.
So, to keep up, you only need to read one chapter every day—the first track of readings in the M'Cheyne Bible Reading Plan, which will take you from Genesis through 2 Chronicles over the course of 2015.
You only need to read one chapter every day—all the other chapters are optional.
So, make your plan for reading the Bible consistently in 2015, and then stick with it! It's my prayer that Free Daily Bible Study can be a help for you to learn the story of God's word as you read every day.
Subscribe by Email on a Daily or Weekly Basis
If you haven't subscribed yet to receive Free Daily Bible Study by email, take a moment to do so by filling out the form at the bottom of this page. You will not only receive each day's meditation in your email without having to visit this site directly, but you'll also receive exclusive content and deals that I won't be making available anywhere else.
But, if you don't want to receive the emails every day, you can now adjust your preferences to receive links to all the week's meditations at once through a weekly roundup email sent every Saturday morning instead. (Or, you can get BOTH the daily and the weekly if you desire.) To do that, just find one of my emails, and click the link at the very bottom marked "update subscription preferences":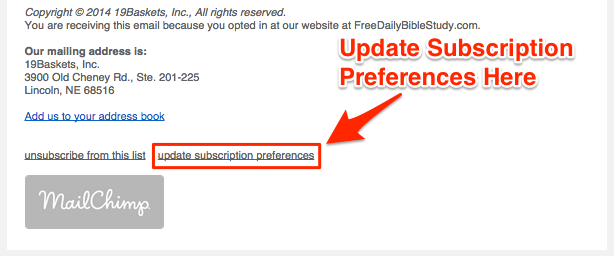 From there, select either (or both) of the daily or weekly Bible study email frequencies:
Then, click update, and you're set! The daily emails will go out very early (3:00am Central) and the weekly emails will go out Saturday mornings at 7:00am (Central).
If you are subscribing to Free Daily Bible Study by podcast, feel free to sign up for only the "Exclusive Content, New Books, and Deals" emails.
Free Daily Bible Study Improves When You Participate
I'm excited about the meditations that will be launching, but what will really make this an amazing experience for all of us is if you participate. You can participate in several ways, but here are a few of the best ways:
Ask questions or discuss your own thoughts about the passages by leaving comments on the posts
Follow Free Daily Bible Study on social media and share articles you find helpful with your friends: Facebook, Twitter, Google+, or Pinterest
Invite your friends to study the Bible with you this year by subscribing to Free Daily Bible Study
Email me your questions at jacob [at] 19baskets [dot] com. If I am able, I'd like to offer bonus content to answer questions raised as we go along with our study!
Thanks so much for your part in making this a community of people studying the Bible together!
Ready to Launch?
If you have any other questions, check out the new Free Daily Bible Study FAQ. Again, if you haven't, subscribe below to get Free Daily Bible Study by email. And please, invite your friends.
May God richly bless you this year as you study his word for the glory of his Son Jesus Christ!

Podcast: Play in new window | Download () | Embed
Subscribe: Apple Podcasts | RSS | More
---

Scripture quotations are from The Holy Bible, English Standard Version copyright © 2001 by Crossway Bibles, a division of Good News Publishers. Used by permission. All rights reserved.
---